Radar Online's FAKE to mark the seventh anniversary of Michael Jackson's death
June 25, 2016
Seven years after Michael Jackson's death the people who kept hacking him throughout his life are doing it again.
This time Radar Online and other Michael Jackson's best friends like the Mirror, the Sun and the rest of the like-minded media decided to mark the anniversary of his death by spreading lies about poor Jackson under the headlines: "Never-Before-Seen Cop Reports Expose Michael Jackson's Sick Secrets",  "Michael Jackson 'stockpiled child sex abuse pics in bid to seduce young boys at his Neverland ranch",  "A vast collection of sick and twisted material was discovered at the King of Pop's Neverland ranch in 2003, a new report alleges. Why is it only being reported now?", and so on and so forth.
Well, a short answer to the above question is – it is being reported only now because it is only now that they thought of a new big lie and a new huge provocation against Michael Jackson. 
NEW LIE
First of all let us make it clear that there is nothing 'new' about the police report they are referring to. Everything seized by the police was included in the sheriff department's report of June 8, 2004 submitted to the court, after which most of the items listed there found their way into the courtroom and were scrutinized there by both the prosecution and defense in the presence of the jury – whose unanimous verdict was full Michael Jackson's acquittal, as you know.
So all the items the media is hysterical about now were seen, discussed and discarded as completely legitimate stuff that can be bought by everyone in the nearby bookstore or newsstand, and there is absolutely no 'secret' about it.
The police report was released to the public on the official site of the Santa Barbara Supreme court and everyone including the media could easily see and analyze it (we here did it six years ago in this series of posts).
So the first big lie is this 'never-before-seen' trick used by the media.
However an even bigger lie is that the paper presented by Radar Online is not authentic. The tabloid or their so-called sources altered the original report by erasing some of its pages and adding to it the photos and pictures that were originally not there.
What's even more horrible is that now it is beginning to transpire that the pictures added to the sheriff's report are not authentic either. They were also tampered with and were made to look much more sexual than they originally were. This way the document Radar online is presenting as a 'never-before-seen' paper really acquired a new look and became a complete fake really never seen before.
The fact that no one knows where those pictures come from was confirmed by the official statement of the Santa Barbara County Sheriff's Department who said the following to Vanity Fair when they approached them for comment:
"Some of the documents appear to be copies of reports that were authored by Sheriff's Office personnel as well as evidentiary photographs taken by Sheriff's Office personnel interspersed with content that appears to be obtained off the Internet or through unknown sources. The Sheriff's Office did not release any of the documents and/or photographs to the media. The Sheriff's Office released all of its reports and the photographs as part of the required discovery process to the prosecution and the defense."

http://www.vanityfair.com/hollywood/2016/06/michael-jackson-police-reports-pornography-collection
By now Michael Jackson's supporters have already provided the first proof that the pictures presented by Radar Online are indeed the nastiest kind of a fake.
The picture on the left is the original photo from some book, while the picture on the right is from Radar Online's so-called police report.
Please note that the photo on the left was not in the sheriff's report either and we don't even know whether it has anything to do with it at all. Radar Online could simply take some picture from the internet, tamper with it to make it look more salacious and present it like it was in MJ's possession.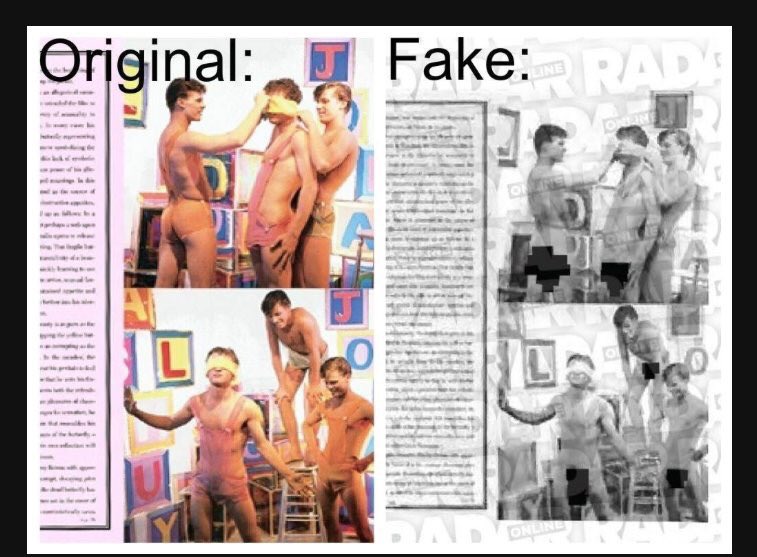 https://twitter.com/Mellie4Justice/status/746367441417048064
The first obvious thing to do in case of so huge a provocation is to compare the real police report with the 'new' one and see what alterations were made there.
However here we have a problem.
STRANGE COINCIDENCE
The problem is that the sheriff's report released during the discovery process in 2004 and until only recently available to all, suddenly disappeared from the internet together with all other documents from the 2005 trial. To be more exact the official www.sbscpublicaccess.org site shows an error mark when you try to enter it, so either the Santa Barbara court internet address suddenly changed or some hackers meddled with their site making it unavailable to users.
Whatever it is, the disappearance phenomenon is interesting in and of itself as it is too much of a coincidence to take place right at the time when a huge fake about Jackson is raging all over the media.
In the absence of the authentic paper anything can be presented in its place, and the impossibility to see the whole register of documents at the court site does not allow to check up whether the current paper is indeed something 'new' or whether it is an old document already scrutinized at the 2005 trial – only in its falsified and much more scandalous variant.
Fortunately the real sheriff's report was downloaded by us six years ago when we were busy making our posts and here it is once again:
https://drive.google.com/file/d/0B-stfayCXLjudXY1b0d2c2JoSUU/view?pref=2&pli=1
Judging by the full register of the Santa Barbara court documents (downloaded by us too) the sheriff's report was filed with the court on June 8, 2004. On June 16, 2005 it was unsealed by the court order and released to the public – so anyone interested in it had plenty of time to have a look.
Therefore questions 'why is it being reported only now?' are full of pretense and false indignation intended only for the uninitiated. The media perfectly knew about it as the report was submitted by the prosecution and was a completely anti-Jackson document where each scrap of paper and even magazines with people on the beach were presented as "grooming" materials.
It was in this capacity that they were scrutinized at the trial, so now it is no use pretending they never saw it – the media had a field day with it eleven years ago.
WHERE IS PAGE 3?
The comparison of the opening pages of both reports is holding another surprise for us. The first thing you see in the altered Radar Online variant is a handwritten note on its top which says that 'Pages 1-3 are missing'.
This note was not made by the police and could belong only to those who meddled with the original paper – because the original police report does have page 3 and this means that in the fake variant this page was deliberately erased.
Here is page 3 from the real police report:
The omission naturally aroused my curiosity as to its possible reason. Page 3 must be containing something which the authors of the 'new' text preferred to hide and its careful study makes me suspect what it can be.
The missing page starts as follows:
"The next item of evidence I reviewed was Item Number 505. This item was described as being three books with photographs of nude and partially clothed children. This item was found in the downstairs cellar area of the video/arcade area.

Upon opening the evidence packaging, I found the items to be packaged within a second sealed paper bag. I broke the seals on the second paper bag. Within this package, I found three hard cover books. The first book was titled, Underworld, author Kelly Klein. The second book was titled, Room To Play, author Simen Johan. The third book was titled, Drew and Jimmy, author John Patrick Salisbury."
Please note that page 3 gives the number of the item covering these three books, which in its turn allows to trace them during the trial – in the courtroom the prosecution and defense referred to the number of the exhibit more often than to the book titles, so without page 3 it would be more difficult to determine the correspondence between them.
The detective gives his description of each book and the last paragraph on the page says what he would later repeat for each and every item found in Michael's possession – that not a single of them can be considered 'child porn' (though each time he adds that they could be used for 'grooming'):
"None of the above noted books contained materials, which depicted illegal activities (including sexual acts with children). None of the books would meet legal requirement to be considered child pornography.  Based on my training, this type of material can be used as part of a "grooming" process.'
If you compare the above sheriff's conclusion with what the current media is telling you, you will realize that the things they say now is a flat lie – none of those items had anything to do with the so-called 'child sex abuse pics' the tabloids are screaming about, and all their hysteria is actually about nothing.
The erotic materials like Hustler, Playboy, etc. were indeed found in Michael's house, and shown to the jury page by page for whole days, making Michael's mother blush with embarrassment, but they had nothing to do with child porn as the media presently suggests it. There wasn't a single fraction of it in Michael's house – either in magazines, books or videos – and the sheriff's report makes this point crystal clear to everyone.
The only fault the police found with these books is that they 'could' be used for the grooming process. Well, 'could' is no proof, especially since everyone at the trial said they had never seen anything inappropriate in Michael's possession (only the Arvizos claimed to have seen a couple of magazines) and besides, it is still a big question whether Michael ever held those books in his hands at all.
And this takes us to one more point which the media liars didn't want the public to know from page 3 –  the three books mentioned there were in a sealed paper bag and were found in the cellar of the arcade room and not in Michael's master house.
This 'sealing' point sounds somewhat intriguing. The police packed all Neverland items worthy of attention into a special packaging which the detective later opened when making his inventory. But over here the three books were already pre-packed and looked like a sealed parcel.
Actually a sealed parcel could be a way the books arrived at Neverland at all (with an accompanying letter naming the books, for example). After that it could be kept in a cellar and never seen by Jackson until the time the police raided Neverland and seized everything they saw fit to seize.
This is the only explanation I can find for the double packaging which even the detective thought important to make a note of – evidently it was something unusual for their standard police practice.
Of course, this is another of those 'could-be' situations, but if the detective made his suppositions about grooming, why can't we do the same about the sealed paper bag?
The location of that package is noteworthy too. The main house allowed access only to the family and a close circle of Michael Jackson's friends, while the arcade building was open to all and anyone could drop there anything they had brought in their bags. Considering that Neverland was visited by thousands of people, planting there whatever they wanted was no problem at all.
Here is a video showing the video arcade (located in a separate building on the ranch) and a crowd  of people – adult and children alike – enjoying themselves there:
The timeline of mass visits to Neverland shows that on October 12, 2003 it was attended by 200 members of the US Air Force and their families who spent the whole day there. And a year later, on September 13, 2004 Michael opened the gates of his ranch for a special charity event attended by many celebrities and most probably the general public too.
Please remember these dates as they may be important.
Besides the physical presence of hundreds of guests on Michael's territory there was also a steady stream of gifts from his fans (and non-fans) and this huge pile had to be stored somewhere until he finally made himself familiar with them, and this place could very well be the arcade cellar or some attic where the various gifts could be kept for years without ever being seen or opened by Jackson.
The point I am trying to make is that the arcade cellar location specified on page 3 may speak to a fact that Michael Jackson didn't see those books at all and that they could be planted there by someone else.
The book titled "Room to Play" was among the three books in the arcade cellar and is one of the items the media is screaming about most. This of their headlines surely refers to that book: "Sickening pictures of naked teen boys, child torture and animal sacrifice found at Michael Jackson's Neverland Ranch are revealed in never-before-seen police report".
Well, let's see what these three books were all about.
'UNDERWORLD'
The first book mentioned on page 3 is titled "Underworld". The detective described it as follows:
"I reviewed each page of the book titled Underworld and did not find any inserted pictures and/or writings, which did not appear to be an original part of the book. The book contained numerous photographs of partially and/or fully unclothed men, women and children. The majority of the pictures within this book are of people who were wearing only their underwear."
The author of the book is Kelly Klein, who turns out to be a fashionable photographer and wife of Calvin Klein. Her website says that she has been involved in the fashion industry for over 25 years and her 'Underworld' is a sort of a history of underwear beginning with the 1880s up to the 1990s. The introduction by Anne Rice says:
"Here are photos–154 in black-and-white and color–of men and women clothed or unclothed, taken from the 1880s through the 1990s by Jacques-Henri Lartigue, Imogene Cunningham, Steven Meisel, Bettina Rheims, Helmut Newton, Kurt Markus, Ellen von Unwerth, Andre Kertesz, Louis Dahl-Wolfe, Brassai, and 75 others."  (Published November 21st 1995 by Knopf)
The photo of Kelly Klein in the Vogue magazine shows us a woman, who in the opinion of tabloid media is guilty of creating a book with 'sickening' photos that 'paint a dark and frightening picture of Jackson'.
The overwhelming majority of the photos in 'Underworld' are those of men and women, old and young. Very few are of children and it is this type of a thing:
The introduction to the book by Anne Rice says:
"Klein has superb taste in shutterbugs: Brassai, Man Ray, David Salle, Sally Mann, David Hockney, Cindy Sherman, and anonymous snappers of eye-grabbing scenes. The juxtapositions are good: Christy Turlington perfectly complements a 1930 Lartigue model; a Bruce Weber tableau matches a 1945 Playtex ad. You see a side of the doomed model Gia here in curlers that even the tell-all bio Thing of Beauty can't tell you about."
The comment from a reader says that the photos in the book reminded him of the then Calvin Klein's billboard ads (apparently placed in the streets and intended to be seen by everyone, including children):
"Perhaps inspired by her then husband Calvin's underwear billboard ads Underworld brings together a sumptuous collection of largely black and white photographs of people in various stages of undress. Some are by famous photographers such as Robert Mapplethorpe others are 'unknown'."
Tim Appelo who writes about the arts for Seattle Weekly, the New York Times, and People also left a comment saying that "This is a good book done for a good cause", evidently referring to the fact that Kelly Klein is donating all proceeds to the CFDA Foundation Fund for AIDS.
Well, and Radar Online and the other tabloids say that this is 'sick and twisted material', so to solve the controversy I suggest these papers never publish Calvin Klein's ads, and all photos of men in underwear and women in bikini should be radically cleaned away from their pages as these papers seem to adhere to the highest standards of morality and should not allow their readers to look at this outrage.
'ROOM TO PLAY'
As you already know 'Room To Play' is one of the books which today's media hype is all about and this is why it requires a much closer look.
The police detective described it as follows:
"I reviewed each page of the book titled Room to Play and did not find any inserted pictures and/or writings, which did not appear to be an original part of the book. This book contained numerous photographs of children, some of which appeared to be altered such as "morphing" was used to "sexualize" the photos by enhancing the child's anatomical features. Many of the pictures expressed the private areas of the children."
Now the internet has much more information about this book than at the time we made its first analysis six years ago. The Amazon book description is also more informative now and the publisher's note to it sounds frightening indeed. It says:
"Simen Johan creates surreal and narrative tableaux of corrupted youth. His images of children and adolescents are constructed by digitally manipulating and combining parts of faces and bodies belonging to people of various ethnicities, ages, and genders. His fictional identities are depicted in equally fabricated scenarios that are replete with references to both the art historical tradition and Freudian sexuality. The poster-perfect finish of his prints belies the disturbing nature of their content; a pubescent girl hula hoops against an idyllic seaside backdrop, as the hoop leaves bruises on her waist; an androgynous teenager cradles the head of a dead sheep on which flies are beginning to land."

From Simen Johan: "My photographs are composites of multiple-image fragments that I digitally manipulate and combine, including both images that I have photographed myself and found images. By combining different elements, my objective is to create artificial scenarios that appear vaguely familiar and produce numerous associations. I want to evoke a sense of familiarity that will seduce the viewer into allowing his or her own experience, imagination, and understanding of existing popular imagery to become tools for interpreting my work."
If you ask me, the photos and collages in 'Room To Play' are actually unpleasant to look at as they show obviously unhappy and neglected children – the type of scenes Michael was always sad and woeful about.
The children in this book look unkept and dirty, left to their own devices and involving themselves in whatever strange activities they find for themselves in their drab surroundings.
In one of the collages the photographer combines the body of a toddler in sodden panties with a face of an older boy (in a tzar's crown for some reason). The picture has a drab feel to it and illustrates the detective's idea of "morphing" as well as his note on "children's private areas".
And when you see these poor children smile you have a disturbing feeling that these smiles border more on the tragedy than happiness and joy.
In short the book leaves you with an uneasy feeling of something very evil and wrong going on the world of neglected children. However it certainly doesn't have any scenes of child's torture, and the various dead animals in the photos cannot be called 'scenes of animal sacrifice'.
It is not also clear how these photos can be used for any 'grooming' process, but what is absolutely clear is that firstly, scenes like that would make Michael indignant and sad as this is exactly what he was calling adults to spare the children from.
And secondly, these pictures are definitely not the type he wanted to surround himself with – he liked happy children's faces and the sentimental sweetness and angelic looks on the paintings of his choice even annoyed some people. They laughed at Michael and called it 'kitsch'.
Well, the photos in 'Room To Play' are certainly not 'kitsch' and are therefore absolutely not Michael's style. And in combination with the fact that this book was kept in some cellar, and possibly in a sealed package too, it makes me suspect that Michael didn't see, use or open it.
But what attracted my attention most is the year when the book 'Room To Play' was published.
The book had only two editions – on August 1st, 2002 and February 1st, 2003. Both dates are very close to each other and the time of Bashir's documentary about MJ, the media frenzy following it, the police investigation of Arvizos' allegations and the eventual Neverland police raid.
For this book to be in Neverland by the time of the police raid, we have to suppose that soon after its release MJ rushed to the bookstore to buy it. But considering how busy he was in 2002 (Blanket's birthday, rift with Sony, a 8-month long interview session with Bashir) and all the more so in 2003, and considering how little time Michael spent at Neverland at all this variant sounds a little unlikely.
Unfortunately we don't know which edition was found in Neverland as otherwise it could have provided to us with a wealth of information.
For example, if it was the February 2003 edition, we could be more than sure that the book was planted in Neverland by some MJ 'well-wisher'. Early February of 2003 was the time when Bashir's documentary aired on TV. On February 18th the Los Angeles Police started an investigation of the Arvizo case (later it was closed for lack of evidence). The Department of Family and Children Services also joined in and interviewed the Arvizos (on February 20th), and ever since that documentary until the trial the attention of the whole world was focused on Neverland.
The threat of any minute police raid was hanging over the ranch and it was certainly not the best time to buy any books that could arouse the police suspicions.
Besides that both in 2002 and 2003 there were no child visitors in Neverland except for the Cascio family and Michael's relatives, so there was actually no one to show those books to for their alleged 'grooming'. In fact the only outsiders attending Neverland at the time were the Arvizo scoundrels (September 2002 and February-March 2003), but they never said a word about any books at all.
Michael's haters will naturally say that if there were no children to show the book to, he must have bought it for himself – however this version is no good either. When people buy something for themselves they don't keep it in some far-away place, but have it close at hand. Imagine having to go to the cellar of the video arcade to leaf through the book that shows a girl playing in the dust, and you will realize how absurd the whole thing is.
However the possibility of planting the book (or all three of them) was very much there. Remember the October 12, 2002 when two hundred families visited Neveland and the September 13, 2003 charity event? And please don't forget the Arvizos' stay there on two occasions and Martin Bashir as the only outsider visiting the ranch on a regular basis during his 8-month long interview session with Michael.
And why did we forget that soon after his first documentary Bashir and Victor Gutierrez (a long-time Michael Jackson's hater and notorious liar) started working together on another of their fictional films about MJ?
Isn't all of it worth thinking about when you have a moment of quiet and are able to bring yourself back to reality from the nightmare of the current media frenzy?
DREW AND JIMMY
The third book seized by the police in the video arcade cellar is titled 'Drew and Jimmy' and has absolutely nothing to say about it except that the author is writing about his two cousins and is illustrating it with their photos (in their clothes at that).
The Amazon describes the book as follows:
"John Patrick Salisbury's first book (Drew & Jimmy) is the result of five years of reflection on his family's past. Hailing originally from an isolated farming village in Northern California, Salisbury was preceded by seven generations. Family relations still live there, and Salisbury relives his past vicariously in this book through the lives of his cousins, Drew and Jimmy. What results is a poignant and moving portrait of boyhood in rural America." – Jack Woody.
The sheriff's report said about this great finding:
"I reviewed each page of the book titled Drew and Jimmy and did not find any inserted pictures and/or writings, which did not appear to be an original part of the book. The book contained numerous photographs of two Caucasian male juveniles that appeared to be in their early to mid-teens. The boys in these photographs are primarily clothed with occasional photographs of them wearing swim-trunk type clothing".
Well, so what? Is this what the media calls "sick and twisted material'?
Of course we have not moved beyond page 3 yet, but even these three examples show how exaggerated and false the media statements are. Six years ago we saw the rest of the books and magazines too and none of them are 'child porn' or 'child abuse sex pics' as the sheriff's document clearly stated it – so what we see today is actually a serious libel case, complete with fake photos and a doctored police report.
The estate of Michael Jackson has already discarded it as a falsification, and my only wish is that Radar Online and the others were made to pay for the nasty slander campaign they have restarted against Michael Jackson.
The Estate's statement of June 21 said as follows (the bold type is mine):
Seven years ago this coming Saturday, the world lost an amazing artist and humanitarian devoted to helping children in need in all corners of the world. Michael Jackson's fans, including the Executors of his estate, prefer to remember the wonderful gifts Michael left behind instead of having to once again see his good name dragged through the mud by tabloid trash.

Everything in these reports, including what the County of Santa Barbara calls "content that appears to be obtained off the Internet or through unknown sources" is false, no doubt timed to the anniversary of Michael's passing. Those who continue to shamelessly exploit Michael via sleazy internet "click bait" ignore that he was acquitted by a jury in 2005 on every one of the 14 salacious charges brought against him in a failed witch hunt.

Michael remains just as innocent of these smears in death as he was in life even though he isn't here to defend himself. Enough is enough.

The Estate of Michael Jackson

http://www.billboard.com/articles/news/7415547/police-reports-michael-jackson-alleged-pornography-collection
Indeed, enough is enough. All sensible people should ask themselves a question why the media keeps trashing Michael even after his death and why they have to resort to fakes to support their 'case' against Jackson.
The question why they are still doing is difficult to answer – the habitual trashing Michael Jackson could be a proven method of earning their money and raising profits, but it could also be an orchestrated campaign organized by someone who always wanted to strip Michael of his fame, money and good reputation. Now they are doing the same to Michael's Estate and hope to bleed it of its money by discouraging people from listening to and buying Michael's music and by encouraging new fictional 'victims' to come forward and file their suits against the deceased Michael Jackson.
As to why they have to resort to fakes in their vicious campaign against Jackson, the answer to it is very easy – they simply have nothing genuine to throw against Jackson.
Another question people should ask themselves is why the media ignores the true facts about Michael and never show him the person he was really like.
For example, speaking about the books Michael really read, you will be surprised to learn that he was an admirer of Sufi poetry which he used to read after his concerts, astonishing his friends and acquaintances by this habit (a post about the books Michael liked is here).
And speaking about the pictures Michael kept close to himself, the media never told you about the painting Michael had in his bedroom right over his bed, and in 1993 too – just at the time when according to them he was allegedly involved in some fictional 'molestation' of Jordan Chandler.
I bet none of you know what that picture is. The media never reported it though the picture is sensational as it shows Michael's real mindset and the matters of most importance for him.
You think it was a photo of some child? A photo of a young woman or man? Or probably the picture of his mother? Or the picture of Michael himself, portrayed in some grandiose style the media likes to so much talk about? Or some perverse thing like an "animal tortured" as the current media is telling you?
No, none of these guesses are correct.
The painting hanging over Michael's bed was a picture of Jesus Christ.
A REALLY NEVER-SEEN-BEFORE PICTURE
Since neither the media, nor the prosecution or even defense ever talked about that painting I learned about it quite by chance – from the video of a follow-up to Oprah's interview with Michael Jackson in 1993.
This funny video showed Oprah, Liz Taylor, Michael Jackson and other people watching the freshly made footage of the interview. The recording was being shown on a huge TV set placed at the foot of Michael's bed, which made me make a mental note that the bed was actually the only place from which anyone could watch TV there.
The bed was indeed a big one and this time it was occupied by several people watching the footage including Debby Rowe, Arnold Klein and some others.
At some point the camera started wandering about the room and fixed on a painting over Michael's bed, and to my sheer astonishment it turned out to be the image of Jesus Christ! So Michael had the image of Christ over his bed and no one ever told us about it?
But how come it was never mentioned? The media, the prosecution and all those numerous 'witnesses' spoke of every little detail in his bedroom, every book and piece of cloth in every cellar, closet and attic in the house and on the ranch, but no one ever mentioned the elephant in the room – the picture of Christ in his bedroom and right over his head?
Is it because the claims that he was allegedly committing 'crimes against children' right under that painting would render a touch of unreality to them and mentioning this fact to the jury was out of the question as it would open their eyes to the God-abiding person Michael really was?
The fact that Michael chose that painting for the central place in his house indeed means that Jesus Christ was his daily and nightly companion, the subject of his regular prayers and an overseer of everything that was going on in Michael's room when he was having his guests there.
Don't know about you, but this discovery left me completely shattered. Not only was it something novel about Michael, but the fact that this was never mentioned by the press was simply the last straw.
Here is the painting I am talking about – it is a screenshot from the video and is evidently reflecting the room lights which look like candles placed below the image:
And at approximately the 2:05 mark of the video you can see it with your own eyes. Please remember to download the video on your computer to be able to upload it again when Michael Jackson's well-wishers erase it from Youtube the way they did it with the genuine police report.
Speaking of that report I forgot to tell you that the original was much shorter than the Radar Online 88-page version of it. I hear that by now it has been reduced to 60+ pages, with the most obvious fakes taken away from it, however it is still a far cry from the genuine paper which had only 48 pages.
And while they are still 'working' on it, here is the video for you to enjoy and see what Michael was really like!
UPDATE
Thanks to our reader Annemarie we now have a photo of Michael's bed in Neverland with the picture of Christ over it and learn that this very special image of Christ is called The Sacred Heart of Jesus.
It  comes from the Catholic tradition and has a special meaning of its own, and this is evidently why Michael chose it. The Sacred Heart of Jesus represents His divine love for humanity.
This image of Christ started in 1673 when a French nun had a vision of Him with his heart aflame with love – the idea that was in great contrast to the rigorous tendency of the century.
Its message is to give our love and ourselves to the needs of everyone whom God puts into our lives.
This site says about it:
That is what devotion to the Sacred Heart is all about. It is the practice of selfless love toward selfish people. It is giving ourselves to persons that do not give themselves to us.
Isn't it the exact description of how Michael Jackson was living his life and his faith?
Update 7.12.2016
Sanemjfan has just sent us a link to a video from the opening of an art exhibit museum in New York. Among other pictures it displays the photos from "The Room to play" book seized in Neverland during the raid.

Looking at all these people walking about the exhibition halls one can't help thinking that if we were to follow the media and prosecution logic all these people should be investigated by the police. Remember how the detective who reported this book described it?
"I reviewed each page of the book titled Room to Play < > This book contained numerous photographs of children, some of which appeared to be altered such as "morphing" was used to "sexualize" the photos by enhancing the child's anatomical features. Many of the pictures expressed the private areas of the children."
I suggest the opinion of this investigator should be printed out and put on the wall beside the photos. It would be interesting to see the reaction of the visitors.