Episode 095 – MJCast Leaving Neverland Roundtable TRANSCRIPT
February 6, 2019
The recent MJCast episode 095 that several days ago brought together experts to discuss the recent Leaving Neverland so-called documentary is so profound and informative that it inspired me to make a partial transcript of it. The idea is to give a chance to those readers whose ear is not trained enough to understand an English-language radio podcast to get familiar with the discussion and take the word about it further.
One of the participants is Marcos Cabotá, a film director from Spain who has seen the film and is sharing his impression of it. As a professional filmmaker he explains the way it was deliberately structured to first gain the viewers' trust and then do maximal damage to Michael's name.
The other participants are Q and Jamon who lead the discussion. They are joined by Taj Jackson (member of 3T and son of Tito Jackson, who is currently raising funds to produce his own docu-series), Charles Thomson (The MJCast's Legal Correspondent and award-winning investigative journalist who has exposed a range of actual child abusers and cover-ups for The Yellow Advertiser in the UK) and Samar Habib (of the Michael Jackson Academia Project, who has been a leading figure in the online movement against the film).
Here is part 1 of the transcript (I did my best but if you find some irregularities, please advise).
* * *
HOST: This is episode 95 Leaving Neverland roundable. It's a bit of an emergency episode. The record date is February the 2nd, 2019. Welcome to the roundtable.
I am Q and I am joined by my co-host Jamon of the MJCast. And we have also got a number of other people seated around this audio roundtable today.
We have a very sick Charles Thomson who may not contribute as much as previous contributions. Can you please get well soon.
In London as well we have got Samar Habib, thank you for joining us. You've just come off an interview with the BBC regarding this very topic.
And calling in from Spain we have a first-time voice – his name is Marcos Cabotá, he is a film director, he is currently working on a Bruce Swedien documentary about his life and career. He has also made a very well known Star Wars documentary "I Am Your Father" (2015). Marcos, thank you for joining us. You've actually seen the 'Leaving Neverland" film and you are one of its earliest critics. And we are very happy to have you on the show to hear about what you saw and your reaction to it. We can't wait to hear your insight.
And we have Taj Jackson on the line, thank you so much for your time. We've seen you in 3T, the eldest son of Tito and nephew to Michael Jackson, and currently raising funds on the GoFundMe project for a counter documentary series. Thank you so much for joining us and welcome back to the MJCast. 
3:40 Q: Please don't miss episode 094 Harrison Funk Special if you can. There is a long discussion from Jamon, and Charles and Harrison regarding this 'Leaving Neverland' documentary and also his interactions with Wade and Jimmy Safechuck back in the day. We strongly recommend you to go back to episode 094.
It was fascinating to hear from Harrison Funk,  because he interacted with Wade and James in the day and hearing his insights into the real Michael Jackson, the real Neverland and the real Wade and Jimmy at that time is really interesting. And also the insight at the end.
Jamon, can you drop a little bit of context about this hack film, this mocumentary propaganda piece?
5:00 JAMON: It is not something we knew was coming or was being even worked on. A few weeks ago the news broke that a documentary was premiering at Sundance and it is a collaborative effort between UK's Channel 4, HBO and Dan Reed Amos productions. It's basically a film that captures the fake stories from James Safechuck and Wade Robson and their allegations against Michael Jackson. We know that they brought a case against the Michael Jackson Estate and its entities which was thrown out of court by the judge because of various reasons, but nonetheless the case was tried out, and now they've teamed up with Dan Reed to put this documentary together capturing their lies and also the thoughts of their immediate family members. It portrays Michael Jackson as a monster, a child molester. What can I say? We are devastated that this is going on. In a few weeks time it looks like this film is going to hit TV. It will be on HBO in the US and in the UK as well, on Channel 4.
6:40 Q. Just a little bit of context and the reason why this film is being able to go ahead – there are no laws protecting the deceased from slander. Charles, maybe you can clarify more for us?
6:55 CHARLES: Defamation law is civil law which exists to enable somebody who has been a victim of damaging claims in the public domain. So if somebody says something which could damage your reputation or business, that's defamation. The law allows you to bring a civil claim for defamation and if you prove that you've been defamed you can be awarded damages. But the law ceases to protect you the moment you die. So effectively what they are doing to Michael Jackson in this film they can do to anyone of us the moment we die. They can do it to anyone. You don't have to have any evidence whatsoever. You can say anything about anyone as long as they are dead.
7:45 Q. Thank you so much for the clarification. It is important for us to know that it is very different from back in the day when Victor Gutierrez wrote a book and was taken to court by Michael Jackson and sued. Victor lost the case and had to pay millions of dollars to Michael which he never did – he fled the country and hasn't paid a cent.
We might hand over to Marcos and get a little bit of a rundown on the film 'Leaving Neverland' he has seen. Marcos was not at the Sundance festival to see the film – it was sent to his film distribution company and this is how he got to see the entire 'documentary'. Marcos, can you give us a bit of a rundown on things that the film includes and how you as a filmmaker view this film and its effect?
8:45 MARCOS: Okay. Like two weeks ago, or ten days ago, I don't remember, my distribution company called me that they had received a film 'Leaving Neverland". Actually they were a little worried. This distribution company distributes my films and my next film is not a Michael Jackson documentary [but about Bruce Swedien] and they called me and said, "Maybe you should see this because this could be a problem". So I went to their offices and sat down in front of a computer and I watched the whole movie and I couldn't believe what I saw.
What the director has done in this movie is that he builds up the first part of the movie very very good, and it's very credible. The first part of the movie is how James and Wade met Michael. You have to think that meeting Michael Jackson is something quite unique. Not everybody has had the luck to meet the man. So when you are watching a movie where two kids, two normal kids have the luck to meet Michael it is already like magical.
They tell you this for like half an hour or 45 minutes, they explain to you how these kids met Michael. And they are showing you pictures of the kids with Michael – Michael with the kids in their home, like very relaxed pictures on the sofa with family, and you as a spectator you are like – oh, my God, how lucky they've been!
So you are slowing getting into their world. You trust them, you believe them, because you see the evidence – because yes, they've met Michael Jackson. And that's quite unique.
And when they have captured you in this way, when they have you like "now you are in my world, you are now in a magical world, you see I met Michael, you see my pictures with Michael. Now I am going to start saying other stuff".
And that's why I couldn't find it credible, that stuff. Because it was like a very nice movie about two kids meeting Michael, first one and then the other, and then suddenly they start talking about abuse, they start saying those nasty things that I cannot even reproduce. Descriptions, descriptions, descriptions of so many horrible things, you wouldn't imagine.
I couldn't believe a word of them. I saw clearly what the director was doing. When you want to say a lie first you have to say the truth. The first 35 minutes of the documentary is all truth, so you believe everything and from then on you have to believe everything they say. When the 35-45 minutes were over, it's when lies began. I couldn't believe a word of what they said.
What Dan Reed has done is a very credible 35 minutes beginning of the story and very nice too, so when they get you trapped, now the lies begin.
12:00 HOST: So basically he's gained the audience trust and then…
12:05 MARCOS: Exactly! Because you like those kids. For the first 35 minutes you liked them, you want to be like them, you want to be their friends, you think how lucky they've been and how incredible was Michael. They talk about Michael and say that he is a great guy, so it is a very nice, nice atmosphere. And after that it turns like 180 degrees and the bad thing starts.
12:35 HOST: Also the first 35 minutes which is the wonderful stuff and all those photos is another reason why you trust and believe them, because it's all real, easily provable, there is evidence for all of that. So they have evidence of all those stories – why would you then doubt the rest?
12:55 MARCOS: Exactly. That's the trick, that's the trick of the film. The 35 minutes are all true – so now you believe the rest, the other 3 hours. That's what they've done.
13:05 HOST: So Marcos, when you get into the second half of the film when the allegations are coming out and they detail the allegations that are horrible lies around sexual acts, does Dan Reed attempt to put in any evidence, like other evidence around at all or is it just the stories of the guys?
13:25 MARCOS: No, no. Just the stories, there is no evidence. Zero evidence. There are some faxes and some autographs, and Michael saying "I love you", "I miss you", but that's not evidence to me. That's not evidence of sexual abuse.
13:38 TAJ: Which is interesting because as soon as I heard that I actually went to my safe where I keep all my letters from my uncle and I found exactly almost verbatim a lot of them. And I thought to myself, well, in the wrong hands this could look horrible. This is because my uncle Michael was that trusting and he loved everyone. So I have exactly that same that says "I miss you. Love. Michael".
To someone when they've already been in that mindset, and they see it the way that's been edited and cut, and they see "I miss you", it becomes something sinister while in reality it was innocent. I had such a fun time last night. I was thinking like WOW, it can really be explosive in the wrong hands. I'm going to post some of them on Twitter to just show that this is how he was. There is nothing explosive in any of this. I have these, my brothers have these, other people have these. That's not anything new. But they don't know Michael and they don't know his universe, so to them it is "Oh, my God!"
15:15 SAMAR: When we were at Dorchester hotel in 1992 when Michael was touring on the Dangerous tour, all of us fans were standing outside, Michael was upstairs on the balcony with Brett Barnes and he had bed sheets and pillow covers and he would sign them "I love you, I love you so much, MJ" and he was writing a lot of messages, things like "You kept me awake last night" because obviously the fans ran under the window screaming and he wrote "I really need to get some sleep" and there would be tons and tons of these messages that would be thrown into the crowd. And anyone of those fans will have any number of bed sheets, handkerchiefs, pillow cases with his name and with his writing on them.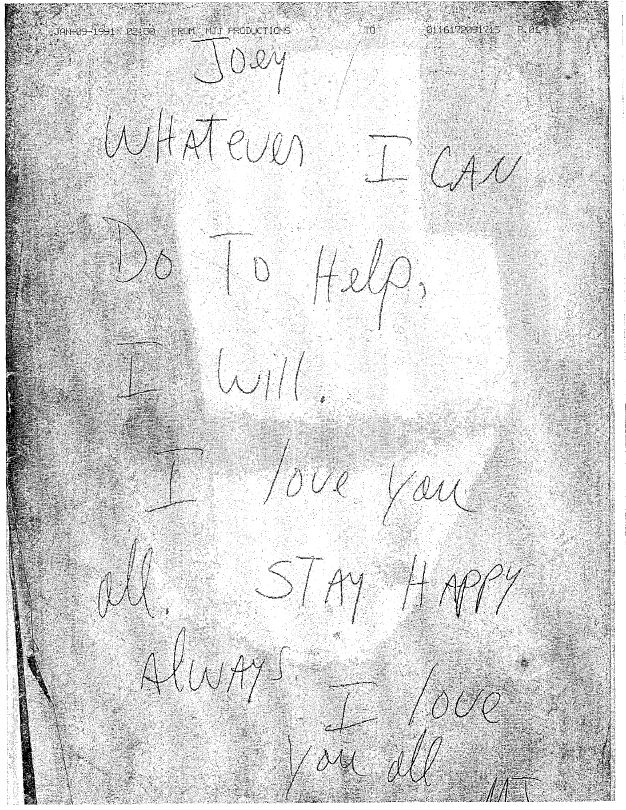 Michael Jackson's fax to Wade's mother: "Joey, whatever I can do to help I will. I love you all. Stay happy always. I love you all. MJ"
Taj touched upon anything in the wrong hands – any message from your parents, any message from your children or your friends in the wrong hands. And the legalities Charles was speaking about and making a propaganda film like this – that's not the only layer of the land, so to speak.
The other layer is also the money to be made, the prestige to be attained by being the next Ronan Farrow, by being the next person that breaks a big story. So Dan Reed is now in an oddly enviable position, because now he can say anything he wants about Michael Jackson and there is literally no comeback. And now you can celebrate wherever you go, you have every journalist eating off your hands as long as they actually don't read any further into the allegations. As long as you limit what they have access to – which he has done incredibly by just speaking to these two families.
Hence there is no journalistic integrity in it, because it is not a documentary – it is a propaganda piece.
17:40 HOST: Samar, why do these 'critics' who take the film seriously and praise it – why do you think people are giving them any stock? This is a one-sided documentary that doesn't present evidence at all, or any other side to the story, so why are people taking this seriously?
17:50 SAMAR: I've just come off the BBC radio where a woman who has just reviewed the film has talked about [it] and about almost the presumption of guilty before being presumed innocent, that "victims should be believed". The host asked her to clarify, does she mean that the alleged victims should be listened to or should they be believed? She said, "I think they should be believed".
But this is not the rule of law. This is not how society works. If you do this to Michael Jackson now, based on a couple of faxes and a legal case that was brought five years after he was dead, anyone is fair game. Anyone, as soon as they pass away is fair game. Bill Gates who's worth billions is fair game. Steve Jobbs is fair game. Anything is fair game as long as you have someone willing to make the accusation.
A – there is a lot of laziness. B – as we find on social media today, there's a complete lack of social, cultural and racial diversity in most news rooms in the Western hemisphere [vmj: not only in the Western hemisphere, lol]. In the UK, for example, 95% of journalist news rooms in mainstream publications are white middle class. What do you think they are going to think? What investigative work are they going to pull in trying to find the truth about a famous black celebrity? They are not going to do anything.
As soon as you talk about David Bowie and any allegations that might be made about him, as soon as you talk to them about Led Zeppelin, about Rolling Stones, they don't want to talk about it. They celebrate their heroes and anyone who they don't particularly care about, anyone they rise their eyebrows over is fair game. And that's a failing of multiple layers of our society and also of our culture, that our media is being presented to us by a homogenous white middle-class grouping which is not representative of our society – in the UK and the US.
20:15 TAJ JACKSON: Yes, very true. I realized it from day one. Knowing my uncle I [wondered], why are they lying? I never believed the media, never trusted the media because to me they are always trying to make money out of my uncle. And the more sensational the story was, the more they made.
As a family the one thing we did wrong was, basically, we'd let it slide, let it go, we didn't fight it. That was out style to do it, and our style has changed recently because we are sick of this. We are sick of these lies and that all these lies basically have become 'truth' to people now. So we have a lot of work to do, [fighting] a lot of ignorance and we are over there on Twitter answering things that have been answered already, millions of times.
But I don't think it matters, I don't think that truth matters any more. It is all about clicks, it is all about getting that headline. I think there is no journalistic integrity. There are some really good journalists but they are in the minority now.
21:45 SAMAR: The point I've made to a journalist called Marina Hyde, she works for the Guardian. The Guardian is supposed to be one of the most liberal of the mainstream press, supposed to be the fairest. She wrote an article today that would have been actionable, libelous if Michael Jackson had been alive. There is no way she would have able to write the article had he been alive and I questioned her on her tweet and she didn't respond though I was perfectly polite. She responded to lots of other tweets that agreed with her.
22:35 TAJ: They can't fight, they can't fight the facts.
SAMAR: Yes, exactly. They can't fight the facts. She wasn't willing to defend her column to someone who would have been able to pick it apart easily, she wasn't willing to engage in a conversation.
And she wasn't the only one – there was another guy, who is a radio presenter in this country. He was on a TV show last week, and the spurious claims he was making as one of its talking heads…. He said, "these guys were ignored, no one listened to them back in the day". And I tweeted and said, "Wade Robson was the first witness in the criminal trial in 2005. That's the complete opposite of being ignored. That's being invited to give your testimony."
And these guys get paid speaking this nonsense. And with the knowledge that we have, we have to sit back and watch this parallel universe where the truth actually doesn't matter. If you have facts on your side you will become a caricature, a laughter. We are flat earthers in their universe.
24:00 HOST: No, this is where I am correcting this narrative. They are the flat earthers. And we really need to get out there [to say] that this is junk science, these are ridiculous claims, they have zero evidence, zero facts.
Taj, you've found some letters that you've mentioned before. Marcos, you mentioned that in that documentary all they have is some faxes. Was there anything else other than faxes?
24:20 MARCOS: No. Nothing else. The big part of their accusations are descriptions. So when you are watching the film, the film is description, description, description. They say all these horrible things that supposedly happened. And you really feel bad. You feel bad because you don't want to hear all those bad words, not because you are believing what they are saying.
If I do a three hour documentary saying that the Earth is flat someone will probably believe that the Earth is flat. And this is a documentary where for three hours and a half these two guys are saying horrible things. They describe horrible situations in hotel rooms, in Neverland and it's quite sick, it is really, really sick. So this is like the strong part of the movie, the descriptions. But there is no evidence. Zero evidence. And there is only one side of the story. There is no one saying the other part of the story or trying to fight them back. This is not good professional work.
25:30 HOST: The other side of the story – Taj, you are going to be working on a counter film for this which we really want to make people aware of.
25:40 TAJ: We've been hitting this head on. I honestly in my heart of hearts think that at the rate this is going and things are being uncovered they may be found out even before I finish my documentary.
HOST: We can try.
TAJ: Because there've left so many trails and no one has done their homework. And it is not something hard to figure out. They are really relying on people's emotions and they are relying on those descriptions to hit the people's guts, and hit them in a way that they feel angry.
They played it really well at Sundance – they had psychiatrists outside in case you were disturbed, and it is such propaganda (laughs). And I am laughing (I shouldn't be laughing because it is no laughing matter), because this was brilliantly played. It was the media, the people outside just in case it is so graphic that you need therapy, you know. It was played well, I'll give them that.
But it still doesn't have any facts to back it up. That's all they have as someone's case. And as we all know this is not something new in a society of blaming someone for something they didn't do and convicting the wrong person. Convicting an innocent person.
I've grabbed a couple of letters [from Michael]. Here is one of them. "Dear Taj, I miss you. Love, uncle Michael". That's one that could be easily abused.
And this one is my favorite – it is on the Japanese Airline napkin and it says: "With love always. I had a great time. I love you. Uncle Michael". The napkin I like is because it looks very suspicious. This is probably the one I would have got a lot of money for if it didn't say "uncle Michael" on it.
I mean that's how these people think. They think that disgustingly, and they think in terms of "we gonna twist someone's words and gonna make them perverted". And this is what they did.
A fan said it best in a tweet, and she said: "Michael Jackson is like a mirror. If you are pure you are going to see purity, if you have those kind of thoughts you are going to see those things". And I think that's true. That's all how it's read, but for me. I know that my uncle is 100% innocent. There is no question to me and I know these guys are lying and it makes me angry and at the same time upset that people are believing this, and prominent people are believing that. And this is when I started kind of breaking ranks to tweet these people back. I mean I can only take ignorance so far, and that's the thing. When you have prominent people rehashing and regurgitating certain things – that's it.
29:05 HOST: Taj, you've got a GoFundMe. Can you tell us about it and what you want to release to counter this film?
29:20 TAJ: I'm not the best marketer for myself but I think the thing is that I'm someone who's spent so much time with my uncle Michael. I don't even know if I can count how many hours that would be, but basically ever since I was born until he passed we were super close. This documentary, this docu-series – it is going to be more than one for sure, probably it'll be around 4 or 5 episodes as parts to it – it is going to dive into everything. When I say everything I mean all the misconceptions focusing mainly on the allegations, because that's where we have to really start.
I can't tell how many times I've read that stupid phrase "Where is smoke there is fire" or "Why did he do this settlement in 1993? An innocent person wouldn't do that." I think we really have to go back to that and explain the logic and how he was basically backed against the corner. And he fought it. He literally tried to fight it from August to January, he tried to fight for the truth, but at the end of the day he was backed into a corner by California basically, who would not let the civil trial go after the criminal trial.
And the reason I know this is because when the allegations broke out we were the first to be flown up to him, to be with him, and I can tell you – he was angry. He was like "No, I'm not letting this happen." And at the same time …. my uncle was a very sensitive person and as this carried on we saw what it did to him – going through a trial because we got to see it in 2005. He was already going through a lot when he was in Asia and we were there with him [in 1993]. He was already feeling that he was being tortured and he wasn't there to fight.
I understand that but we also need to understand the mindset of the public, because a lot of people don't know. Just like a lot of people don't know about the drawing of the kid – that it didn't match. Everyone says, "Oh, it matched". A circumcised penis and a not circumcised penis doesn't match, sorry to say.
32:25 HOST: And also if it did match I'm pretty sure that the DA would have run with that to the hills.
32:30 TAJ: That would have been it. Let me ask you this – why would my uncle subject himself to being photographed naked before settling? He always wanted to fight it. If I am going to settle and get this out of my head I am not going the public to know about it first of all, and the media. But he let them drag him through the mud and then photograph him naked and then settled.
And the settlement was about the civil case. And it never prevented Jordie from testifying in a criminal case, and that's the thing that they don't understand.
33:15 SAMAR: Or his family, or his friends. The argument that Michael Jackson paid off and that means that he paid the family and they couldn't go to trial – no, that's not what happened. In the settlement that was leaked illegally in 2003 before the 2005 trial, it is explicit that the settlement doesn't preclude the family from testifying in a trial, any further trials. Hence Jordie's mother was able to testify in 2005 (no one believed her). There is such a massive misconception, it is such a lie that is perpetuated over and over again. And it is easily disproved. It there is factual, printed in black-and-white evidence to disprove it. But Marina Hyde and all the other pseudo-journalists don't want to talk about it.
34:10 TAJ: I think also that people are lazy. They don't want to do the research. A lot of the fights I've had on Twitter have been with people who are like "It's not my job to do this research". I think that what my documentary is going to do is basically put it out there very easy to digest, in a way that it is so blatantly obvious and so fact-based that there is no disputing it. And this is going to be something different in that way, because a lot of this is on Youtube already, but it requires someone to go click on something and sit there and watch it. And I think the difference is that this is going to have enough noise in a positive way that people actually want to click and watch.
35:05 HOST: They are going to take notice for sure. I want to drop a link to it now.
I know that you are not good at hyping yourself Taj, but this is a really important aspect of the fight against this. And actually getting facts and evidence which is available already, but we need it to be presented this way. And you can't do this on your own.
35:50 TAJ: I think we can't do this on our own, but at the same time from what we've seen now which is what I've always seen my whole life, we can't trust the media to put out the truth, and that's the biggest thing. Everyone says, why you don't go to this channel and that channel? Every time we've gone somewhere they've always twisted the truth. When my uncle went on Oprah, she started asking him about plastic surgery and about his skin color. It is like it doesn't matter who you are, when it comes to the Jackson family you lose all integrity, you lose all journalistic ability.
And the same with Martin Bashir. He had done that documentary on Princess Diane. Sure, that was the reason my uncle wanted to do that documentary with him. He was probably thinking, "He is going to do a brilliant documentary about me." But there is some kind of a temptation. You think, "This is my big break and I need it to be bigger. This is great, but I need it better than this. And I am going to throw in something that's not true there."
And we can't afford it any more, as Michael's fans, as family. That has to be something that is 100% factual, because they are going to nip it to death, they are going to go through ten magnifying glass each and try to find one thing faulty in it to discredit everything. And it's got to be truthful, it's got to be from people that have known Michael their whole life, people that had worked with my uncle, worked for my uncle. So by the end of it you should know who Michael Jackson was, how incredible he was, but also how much he endured and how much he was tortured in life.
37:45 HOST: And the evidence to prove that all this ridiculous money-making schemes is just that.
37:50 TAJ: Just that, but also planned. And executed. Talking about extortion… that's why it is going to be a series because you cannot fit it all in one movie. I cannot do him that injustice. For me it is not going to be "We gonna talk about this, we gonna talk about that". I do get feedback from the fans and I think it is imperative to first start with the 1993 allegations.
38:30 HOST: I know this it something what the fans want from this. They are harping for a great production value and getting this out there. And everyone wants to see someone like Netflix. To what extent are you talking to Michael's Estate about partnering on this? Are they jumping in to help this out? What's going on there?
38:45 TAJ: I can't say much, but I can say that we've definitely talked to them and they definitely have said that they want Michael's name cleared as well in that way, and they are definitely on my side for this and they've definitely been supportive in clearing his name. I don't want to say much because I don't want to tip off anything. If you asked me a year ago I'd probably would have said I'm happy to have it on my shoulders, but these allegations that have resurfaced have put everyone working together for a common goal which is to expose the truth.
39:30 HOST: Marcos, you are a film maker. Actually in Seville, Spain you are nominated for an award, the pious Spanish film award ceremony this weekend. How easy is it to make a film financially? Can you give us some context of that? You are in the middle right now of filming the Bruce Swedien life story documentary…
39:55 MARCOS: Yes, financing a movie is not easy. Probably it's one of the hardest parts to get all the money together. For example, in my case I'm making a documentary that costs around 300,000 Euros, it is more or less $280,000 (correction: approximately $342,000). Because it is not just doing the film. You have to distribute the film, you have to do the publicity for the film, you have to tour around the world with the film and you have to make sure that the film gets into Netflix or other platforms.
So it is difficult to get the funding, it is one of the most difficult parts. For example, I started the Bruce Swedien movie with only half of the funding because I wanted to start shooting, so it is like two months ago that I got the other half of the funding. In Spain we have some help from the government. But this is a thing that can take a full year or even two years or even more. It is something slow, getting the funds. It is something real, real difficult.
41:25 HOST: Taj, what can fans do to support you, to support this film and how can fans most constructively combat this online onslaught, caused by this propaganda film?
41:49 TAJ: I feel that the Michael Jackson fandom is the strongest fandom in the world. And I think that what they want us to do is basically go and hide in a cave and being scared and not utter the words 'Michael Jackson' ever again. I think, what would counter that and what everyone is doing which I am so thankful for is that everyone is literally wearing their shirts with pride, and that is the key. Letting them know that we are not going anywhere and we want the truth to be out there.
I think that's when people get scared, the HBO and Channel 4 get scared, when we have a voice and I think that's the thing. We are getting our voice back, we are all starting to unite. We all start to be vocal and we are hitting them with facts and we are hitting them with the truth.
For me what I need the fans to do besides the documentary, is spreading the word and spreading the truth, because affecting one person can affect another person, and then affecting another person. I can tell you right now, if I didn't have the support of the fandom I would probably not be able to do what I am doing right now. I feel that Love and I feel that Truth.
43:00 SAMAR: I sent a message to Charlie this morning after having a couple of interactions with some idiot journalists on Twitter this morning. And I said to him – this is quite worrying because this is all of a kind of flat Earth in comparison. Charlie said this is difficult because with so loud noise from the media we look like idiots. The stuff I've been called online – oh, you support a pedophile, basically. And that's really troubling for some of the kids, that people might actually ever think that. I said to Charlie that I am quite worried about that, but then I thought – I have the truth on my side. This is the truth.
And good things will not happen until good people say what's right and what's wrong. The radio conversation I had five minutes before coming on this podcast the woman who was a journalist and had reviewed the film – it was like listening to someone talking another language.
When I was aware of all the facts and the background of all the accusations and the accusers, and for her to refer to them as "incredibly credible and I've spoken to them and they seem to be very credible"? And I know people who have known Wade Robson for 25 years and who believe he is lying, believe Jimmy Safechuck is lying. You cannot pull wool over our eyes.
The beauty of social media is that the public has a say. That's why none of the journalists want to respond to my tweets, because they are very happy to caricature Michael Jackson's fans as crazy, Peter Pan obsessed, bla-bla-bla-bla-bla. And I was perfectly polite and asked very simple questions, and I was still caricatured. And that's because they don't want to answer and know that what they are producing and what they are publishing is so easily disproven.
And how can you continue to go to your job and get paid knowing that you are writing nonsense? You have such a responsibility as a journalist in the world. How do you sleep at night knowing that you are just repeating lie after lie after lie? There is no thought about the people that's related to, the people who are still here.
I've been a fan since 1992, so I've been through the very, very highs and the very, very lows, and it's pretty low now and for a while I was really worried and concerned. And then I remembered 1993 when in England there were four TV channels. There was no Internet, the only mass media we had was four channels and all they were doing was blasting allegations and there was literally not a way of response.
That's not the case now. There are plenty of people with big platforms who are willing to ask the questions whereas in 1993 that wasn't the case. It was horrifying in 1993. And that's something that fans who might be listening now need to understand.
Yes, there will be short-term damage. Yes, it will hurt for a while, but ultimately and eventually Michael Jackson's legacy and art – it is too powerful and too strong. He was that big and that important culturally to people, not just in England, not just in America, but in India, Pakistan, Nigeria, Kenia, in Iraq and Afganistan – all over the world he is known and is important to all those people. So it hurts for a while and short term but ultimately the truth will come out and he will be redeemed.
47:40 HOST: That's it. We've got the facts, we've got the evidence on our side.
Taj, you were at Neverland so many times you probably met these particular guys on occasion. Is there any story you want to share about your time at Neverland, what you saw at Neverland yourself when you were sleeping there, when you were living there or interacting with certain people. Is there anything you want to put out today for people?
48:15 TAJ: Yes, sure. The thing is that Neverland was a second home to me in my whole childhood. Growing up I loved Neverland. Still to this day I can close my eyes and walk around the whole property pointing where everything is. It is imprinted in my head and in such an incredible way. It was magic.
And what the media did so 'brilliantly' was that they made it seem like it was a scene from Pinocchio and this dark shady thing. The doll house that was so beautiful, all set in with the wrong lighting, looked like a creepy room. But this is the doll room! For me it was one of my favorite rooms and they portrayed it as a creepy room. And that taught me a lot about the media, even though I already knew what they were doing.
When you've experienced something and you know what it is … I had a friend who was watching something on cable news and he'd been to Neverland many times for parties or just with us, and he actually stopped listening to this guy. This guy was his hero and he was on Fox News – my friend is more of a conservative, and when this guy started talking about Neverland being creepy and a place that entrapped kids, he was like, wait a minute, I've been there millions of times and how dare you paint it this way?
Many people haven't been there, just like many people didn't know Michael, so for them it is whatever way they want to paint it. Luckily there have been thousands and thousands of people that have been at Neverland and have thousands and thousands of great memories. It never stuck that Neverland was a creepy place as everyone had a great time there.
But for me Neverland was home. I was there for a long period of time and actually during the trial I saw the Robson family come up to do their testimony. I sat there and had dinner with the Robson family and uncle Michael, and Paris and Prince, and Blanket. And the Barnes family was there as well. And we sat and watched Wade introduce his fiancee at the time to uncle Michael and how excited he was to do that.
And then I see this and I see the hypocrisy and I see the fact that he is claiming that at this point Michael was a child molester – I can't say those words. That's what he is claiming. For me it is disgusting.
But I think that at the same time we as fans and family have to be careful not to do – which is so tempting – to jump down possible allies' throats. Because we will need all the allies we can get.
There are certain celebrities that I'm like, why aren't you saying something? Or even if they say something and it is not exactly what you want them to say, be careful because those are going to be our allies. We don't have many. It is the easiest thing to do, trust me, I've caught myself many times [wanting] to erase my tweets, but at the same time we need these allies because at the end of the day we don't want to scare them away even more, to the point when they are like "damned if I do, damned if I don't".
There are certain people that I would have loved for them to have said this or to have said it better, but at the the end of the day we are fighting people who are blatantly saying he is a 'predator', that he is a 'molester'. We have to pick and choose where we are focusing this energy.
52:20 HOST: Taj, I also think I should make a note that the family did release a statement. Jermaine has been quite vocal since there was a petition before the film started airing, he posted about the petition. He also went on British TV and you can say that this is really affecting the family a lot. I wanted to give props to uncle Jermaine for speaking out so vocally as well.
But there are also other people speaking in defense of your uncle. We've seen a few tweets from Brett Barnes, we've seen a young gentleman who was the son of one of Michael's hair stylists, Talun Zeitoun. Can you tell us about some other people? We should really amplify those voices because I think they are getting drowned out a bit.
53:20 TAJ: I can't say who privately has reached out to me because a lot of them said that they'll be part of the documentary and I don't want to tip anyone off. I think the hard thing for me was to see that the celebrities are so scared to come out and voice their support. Because if they do they get attacked. If they don't they get attacked. For them, they are almost sitting on the sidelines.
The 2005 trial was more disappointing because I don't think there was that much of a risk at that point. It wasn't the same environment. My uncle literally had only his family and a couple of friends, supporting him. It was a very, very lonely time at that point.
But here I've been a little more lenient, because I've seen people in the times of the #MeToo movement voice something for the person accused. And later it had been found out that the person accused was innocent. As we started this "believe the victims first" mentality. And that's why you are not going to see many celebrities support – in the public. You can see it behind doors, but you are not going to see it in the public, because to them there is no reward. There is only risk.
55:00 HOST: Taj, there is one thing I feel very strongly about and I think you do as well. These false allegations and claims – just claims as there is literally nothing to back it up at all – it is not only a huge dishonor and disrespect for your uncle, and for your family and his family, but also real victims of abuse. Real survivors of abuse.
This is so disgusting that these people are out there and they are going to make a lot of money out of this. They say they haven't been paid for the film. This is nothing, there are going to be so many avenues for them to make money. This director is going to sit for life on this film.
So how do you feel as a victim of abuse yourself? What do you think that says about the people who make stuff like this?
56:00 TAJ: I even tweeted at one time to a person (don't know his name), I said, if you have any questions, please come to me first, because I knew how important these movements can be, especially if you a victim to come out and it can take a long time and a lot of courage. And I've been very careful not to attack those movements in a certain way even though they are attacking, in a way, my uncle and his legacy. So for me – I've been still tiptoeing around it because I am an actual victim and I take that with… I am very serious about that. And have always been serious about that.
I think that it's almost like "if we get one wrong, we get one wrong". No, that's not how it should work. Because one wrong is too much. Because it destroys life as well, so we have to be careful.
We have a mob mentality now in this world. Just pile it on, pile it on. And I think we have to be careful and sit back and maybe give it 24 hours to learn the truth. But that was not the case with this.
57:25 CHARLES: In my day job for the newspaper I've spent the last four years, working on a very in depth investigation into historic child molestation scandal. And I spent a long time now, the best part of the last two years, working directly with these victims, genuine child abuse victims. And the thing that cheeses me off really, one of the most things that upsets me the most about this film, is that I can foresee the damage that this would do to the cases of genuine victims.
Because we actually had it a couple of years ago here in the UK. We had two big simultaneous police investigations. A huge kind of moral panic over historic allegations against celebrities which sparked a massive police investigation called 'Operation Yewtree" under which a couple of people were convicted, but most of the celebrities who were arrested and not charged were completely exonerated and had their careers destroyed despite being vindicated.
And at the same time we had this huge scandal which lasted a couple of years where there was supposedly a historic pedophile ring operating off the Houses of Parliament. This story ran across pretty much every newspaper in the UK, every national newspaper. And it turned out to be complete bunk, it turned out to be basically rambling by crazy fantasists who were trying to file compensation claims, and stuff.
As a direct result of those two moral panics which resulted in histrionic media coverage for years, ridiculous media coverage and false accusations against lots of people who ended up completely cleared, it did two things. The first thing is that the media stopped engaging with any similar stories, like the story I've been working on for the last four years – the national media would not cover it because they don't want to have anything to do with historic abuse scandals now, because they are not going to get their fingers burnt again. So it silences genuine victims in that sense.
And the other thing it did was actually changed police policy whereby because of the current ridiculous response to these allegations they held an independent inquiry and produced a report which instructed police officers to no longer believe abuse victims when they came forward, to treat them with skepticism.
So when you have these fake allegations it has blowback, it has repercussions because when they expose this fake it turns the tide of public opinion and it has consequences. And those consequences can only be negative for genuine victims. Like the victims I've been doing with for the last four years. They can't get police to take them seriously, they can't get national media to give them a hearing. It's all fallout from these fake allegations a couple of years ago.
So I just see this as a continuation of that really. This 'documentary', this TV show … I hope somebody does a good job of discrediting it, but even when that happens that is going to have negative consequences for other victims. So the victory for Michael there which is deserved will still have ramifications.
So it is just a complete mess and it is really indefensible. This crap, this rubbish journalism is going to blight and impede genuine abuse victims and that really fucks me off.
1:01:25 HOST: Yes, well said.
Marcos, I want to ask you quickly as well. You've seen the film and from your point of view as a film maker, how can we as fans, people on the ground, what can we do to correct the narrative and fight this propaganda piece?
1:01:45 MARCOS: I think, by showing evidence, because I cannot even call it a film – it is a propo film. In that show there is only people talking, talking and talking and it's one side of the story. So now you as fans, we need to hear the other side of the story, and if you can bring some evidence upfront that's good, because they have nothing. Seriously. You are going to freak out when you see the movie. It is three hours of two guys talking and that's it. I can do the same, anyone can do the same. There's letters but nothing else.
If you are going to say something so wrong from a person you need to show some evidence that what you are saying is truth. So the way to fight back is to show evidence.
And you are doing it already – you are convincing a lot of people with your tweets and your Youtube videos, showing who these two people are. Now it has to be a bigger voice, and this is maybe Taj's documentary. I would say to Taj to go to Netflix and get Netflix involved in this series. I'm pretty sure that they will get on board.
1:03:25 HOST: Can I ask before we move on to our next section. Taj, I want to ask you something directly. Your uncle Jermaine gave an interview on "Good morning, Britain" and he mentioned something that sort of surprised me. He said that "Wade dated two of his nieces" meaning two of your cousins. Clearly Wade Robson had a very deep relationship with your family in general and beyond Michael Jackson before these allegations. Do you have anyone in your family that have reached to Robson one on one to just challenge him on this?
1:04:05 TAJ: I don't think it happened. It happened in the beginning. But I think he is too far deep in it now. He is kind of made his bed and it would be literally a waste of time, and it might be something he might use against us, to be completely honest. Knowing him and not being able to trust him in anything he does and says, I think we have to be careful in that way, you know, whether he recorded us or …
They proved that they will go through any means necessary to make this a truth. I wouldn't put it past them to change things around, change wording around and manipulate the situations. I don't think anyone has reached out to him and I know that he is purposely avoided by everyone.
I actually bumped into Chantal for Christmas because one of my friends is mutual friends with her and I can tell you one thing. I said, "Hey" and she had her head down and she walked to her car. And I had no clue why that had happened until I heard about the movie. I said, oh, now I know why she felt shame because she knew something I didn't know.
I would definitely say we haven't reached out. We did it in the very beginning because I didn't believe it in the very beginning. I was like "No, not Wade". The person that was adamant and that was at Neverland and presented his fiancee to my uncle and showed his short film to my uncle, and was so excited like "I want you to be the first person to see it." That Wade?
1:05:50 HOST: The same guy who was doing interviews for years after your uncle passed praising him. He did a huge page in the OPUS book, he was saying how excited he was, he wanted to work on Cirque du Soleil show and that was just months before.
1:06:10 TAJ: The same guy that went to the memorial, and was so excited when I contacted him, and was so thankful for being able to go to the Memorial. The same guy who saw the kids after Michael died and seemed enjoyed to see the kids again. There is a lot of stuff that still hasn't come out that will come out.
I can tell you, we just have to stay positive, keep trying to get through these ignorant people online. A lot of them are ignorant, and it is a sad state that they disbelieve anything that they don't read or hear. I have hope for a lot of people in that situation. And there are a lot of people who email or tweet me "I'm not even a Michael fan but I did do some research and the more I researched the more I realized how much he was framed. And I don't believe it".
I think that's a good thing, it is reaching people. I can tell you that the 30-minute video on Youtube reached a lot of people. First of all it was super well done. Those kind of videos are very effective.
Or the Razorfist guy, that was super entertaining (laughter). I needed it. It was so well put together. You know, one was very factual and the other was very factual and entertaining in a way that you could sit there and watch it and think "Oh, I didn't even realize that all that time has passed".
So I think that those kind of things are super effective. I can tell you I've sent it to a lot of my friends, who in their defense always believed in me as well, but I wanted them to see it anyway, because I don't want a shadow of a doubt.
Macaulay Culkin's podcast that he did "Inside of you" – that was very big in that way and that was one of the first things that was promoted in defense of Michael. And I thank Michael Rosenbaum for that, whose friendship I really cherish. Luckily we became friends a year ago, which is weird how timing works. And he saw the magic of Michael and it was perfect that they were doing a podcast at that point when the news broke. And I think that in anyone else's hands [it would have been a little devious], but it was done well.
I do think that everything happens for a reason and I truly believe that this really united the fan base and the family, with the fans. And it even united everyone in a way with the Estate, in terms that we are on the same page on this, which has never happened. And I am excited because we really can once and for all put all these stupid rumors to rest, and not have to discuss it any more.
[We talked about] flat Earth when it's proven that it is round. And it's like, "Okay, now you are the ignorant person, don't talk to me any more". And I think that is what I am looking forward to. It's like "Please, did you see the documentary? Then please don't talk to me".
And this is what this is going to do, working it to the point that it can do the opposite. There's very many documentaries that can really shine a light on the truth.
As much as this stupid movie is trying to destroy my uncle's legacy, I feel that it has also given us the wings and the strength to counter it. It brought people out of the woodwork that I wouldn't have been able to interview, because they would have felt there was no need to. And now they are willing to be interviewed for Michael, and for the fans and for the family. And so in a way this is going to be even bigger than what their little mockumentary is.
1:10:55 HOST: We are so happy to hear that, Taj and we are going to do all that we can to get the word out and help contribute to that, and to correct this narrative once again.
Folks, we gonna move into the final part of the episode where we are going to talk about how fans can correct that narrative, how they can amplify the correct voices and get the actual facts and evidence, and also support each other at this time.
Marcos, I know it is late at night. You've got an award show and we wish you all the best.
MARCOS: Thank you very much.
HOST: And we can't wait to learn more about your Bruce Swieden documentary, so I think you'll be hearing again from Marcos in the future.
Taj, if you need to go – because you have a lot on your plate and you've got a young family – we are quite happy to wrap it up for you.
TAJ: Thanks. I am actually doing a Brazilian interview in a couple of hours as well. I'm trying to do more international ones. You know that I haven't done any American ones yet. I did the Australian one today which went really well.
My uncle had a global fan base, that's why I am basically doing a lot of international interviews as opposed to domestic interviews because I know how much he was loved there, and how much they are more open to thinking for themselves. I hate to say that and, you know, throw my country under the bus but at the same time there is something about our reality TV based mindset here in the States that everything they see and read they believe.
SAMAR: When you talk about reality TV in America President Trump is reality TV.
TAJ: Exactly my point, and with the 40% rating. That is my point. I used to want to prove to everyone "Why can't you guys see the truth about my uncle that he is innocent?" But then I realized, seeing polls like 40% of this, 40% of that, I assumed that I am just not going to reach certain people.
HOST: I think this is amazing time to thank Taj and again, please, listeners go to GoFundMe. There are also links on Taj's page. Share it and get the word out. Thank you for your time and we really appreciate it. Keep the good fight going.
TAJ: Thank you guys for everything and to the fans – BE PROUD. We know the truth. And we are going to get the truth out there.
HOST: Facts and Evidence – that's what we've got on our side.
~
(more to come)